Thetford training ground helicopter drone 'near-miss'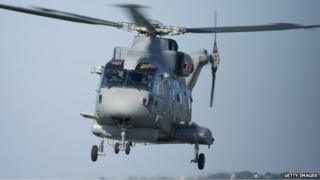 An RAF helicopter on exercise at Norfolk's military training area had a "near-miss" with a drone, an aviation authority report has revealed.
A collision was avoided by the helicopter pilot and the ground-based drone controller taking evasive action.
An inquiry into the incident at the Stanford area near Thetford on 27 February 2014 failed to find a cause.
But it has led to changes as "unmanned aerial vehicle" are likely to be used more widely, the UK Airprox Board said.
The incident report said: "Whilst it has not proven possible to positively determine actual aircraft tracks, this incident highlights the need for stringent airspace co-ordination, which will become increasingly important as use of tactical unmanned aerial vehicles increases."
An exclusion zone had been set up for an exercise using a Desert Hawk drone. It was set out on maps and communicated to other training ground users, the report said.
Drone rules reviewed
A Merlin helicopter at 100ft (30m) approached the area and the pilot noticed vehicles and people on the ground, it added.
The pilot estimated the helicopter was about 325 yards (300m) east of the exclusion zone when it came within 60ft (18m) of the drone and moved more than 200 yards (200m) further away.
The pilot estimated that the drone was outside the exclusion zone and he perceived the severity of the incident as "low".
When the drone commander saw the danger he ordered "let it come in hard into trees" to avoid possible collision.
He assessed the incident as "medium".
The aviation authority said this type of incident was bound to increase and co-ordination of remotely piloted aerial systems should be reviewed.