Norfolk's Bawsey sand pits to become country water park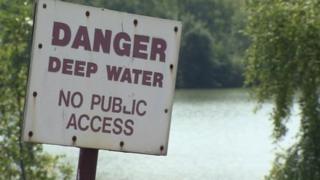 A beauty spot in West Norfolk where two people died while swimming is to be developed as a country park.
Ryan Pettengell, 41, from King's Lynn, and Umar Balogun, 16, from London died in July 2013 at the former sand pits at Bawsey, now turned into lakes.
Drug dealers and prostitutes also used the site until residents objected and owners Sibelco proposed redevelopment.
The firm has joined with Cambridgeshire businessman Kevin Salter to turn the site into a country and water park.
A survey of residents last year attracted 600 replies and many of them came from people in nearby King's Lynn, who regularly used the site in summer.
Sibelco had asked for ideas on the future of the lakes and a country park was the top suggestion.
Adventure park planned
A development and fundraising group was set up and Mr Salter, a businessman from Wisbech, pledged £25,000 in support.
He will work alongside Sibelco and the development group on three proposed phases of development.
The first phase is a clean up of the site and provision of car and cycle parking, toilets and facilities for barbecues.
The next step would be wildlife viewing platforms plus observation pods linked to a neighbouring RSPB reserve.
A new museum is planned to explain how the pits developed, and there will be guided ranger walks, sailing and swimming opportunities.
"The vision for the third phase includes a children's adventure play park," Mr Salter said.
"This is no cut and dash investment for me. I've known the site all my life and I'm in this for the long term."
The plan has won support from Sibelco director Gary Stringer, who said the company had been looking for an enthusiastic partner to bring "the project to a successful conclusion".