Norwich starlings murmuration creates spectacle at winter roost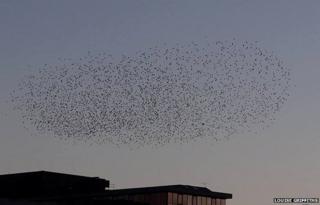 A rare murmuration of starlings has become a "must see" in a city centre, bird experts said.
Up to 3,000 birds have been flying in formation in Norwich at dusk before roosting on an office building.
Farmer and naturalist Chris Skinner said the birds were expected in countryside reedbeds, but were much rarer in a busy city.
Norfolk Wildlife Trust said huddling in the roost helped the birds conserve warmth and energy.
The starlings were roosting on a building on St Stephen's Street, about 500yds (450m) from the peregrine falcons that nest on Norwich Cathedral.
'Like Moses'
Mr Skinner said: "Murmurations are not unheard of in towns, but to have it right in the busiest part of Norwich, with a grandstand view from the multi-storey car park, is mesmerising, rare and a must-see event.
"I've seen a peregrine split the swirling flock in two like Moses parting the Red Sea as it grabs prey."
David North, of the Norfolk Wildlife Trust, said: "If you're in a flock your chances are pretty good and the swirly movement will confuse the predators.
"City centres are warmer than open countryside and two or three degrees can make a huge difference as it takes them a lot of energy to keep warm."
Starlings
One of the UK's most common garden birds
Numbers have dropped by 78% since the 1970s
"Red listed" as a species of conservation concern by the RSPB
Appear black from a distance but shimmer purple and green up close
Related species span Europe, Asia and Africa
It is thought one reason they flock in this way is to protect themselves against predators such as hawks or peregrine falcons.