Trojan Horse schools struggle to recruit staff: Wilshaw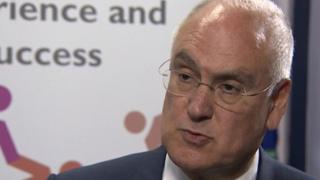 Schools at the centre of the Trojan Horse allegations in Birmingham are struggling to recruit staff, the Chief Inspector of Schools has told MPs.
Claims that hard-line Muslims tried to gain control of the schools have led to "big problems about leadership and staffing", said Sir Michael Wilshaw.
The government should help the schools recruit good staff, Sir Michael told the Commons Education Committee.
The government said it had not been approached by the schools themselves.
However a Department for Education spokeswoman said: "We have made it clear that if the academies affected need support with recruitment expenses such as travel costs, we will consider all requests.
"We are determined to turn around Birmingham's schools, to ensure all the children receive the education they deserve, so they can reach their potential and go on to build a better future."
Pupils 'let down'
In his evidence to the committee Sir Michael warned that without better staffing, the problems could re-emerge.
He said pupils at the schools had been badly let down by their governing bodies "and because we can't get enough good leadership and teaching staff in those schools".
"If we don't, those people who have gone to ground, who want to exploit the situation, will do so".
He urged the government to allocate additional funding to help the schools recruit good teachers and leaders.
In June, Ofsted issued a damning verdict on the running of a number of Birmingham's schools and declared five failing, placing them into special measures.
Those schools were Golden Hillock School, Nansen Primary School and Park View Academy - all run by the Park View Educational Trust (PVET) - as well as Oldknow Academy and Saltley School.
Earlier this month the Department for Education issued its own review into the allegations, one of a series of investigations sparked by the so-called "Trojan Horse letter", now widely believed to be a hoax.
The anonymous letter, which was sent to the local council, referred to an alleged plot by hard-line Muslims to seize control of a number of school governing boards in the city.
Christian schools
Sir Michael also told the Committee that Ofsted had no "political agenda" against Christian schools.
Responding to questions on complaints about recent inspections of Grindon Hall Christian School in Sunderland, and the Durham Free School, Sir Michael said inspectors applied the same standards to all England's schools.
"We're going into schools in Birmingham, Bradford, Luton, Tower Hamlets with children from predominantly Asian heritage, predominantly Muslim.
"We're failing those schools and putting them into special measures. We're saying tough things because they're not promoting British values, they're narrowing the curriculum.
"We're going to apply exactly those principles to other schools in the country."