UKIP election fraud case: Second trial to be held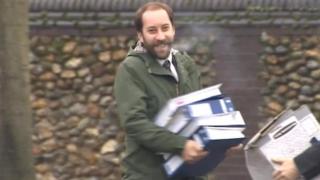 A former UKIP parliamentary candidate is to face a retrial over allegations of electoral fraud.
Matthew Smith, 27, was cleared of seven electoral fraud charges on Tuesday at Norwich Crown Court.
But jurors could not reach a decision over two counts of making a false statement in nomination papers.
Judge Anthony Bate said Mr Smith, who had been due to stand for election in Great Yarmouth, would face a second trial on those counts from 1 June.
On Wednesday the jury was discharged after more than 18 hours of deliberation over the two allegations.
Jurors had earlier found Mr Smith not guilty of four counts of making false statements and three of falsely signing nomination papers.
'Meticulous' investigation
The allegations related to Norfolk County Council elections in the Great Yarmouth area in 2013, when Mr Smith stood for election and acted as his party's electoral agent.
Judge Anthony Bate told the court he thought the case had been "properly brought to crown court".
"In my judgment it was a meticulous and thorough inquiry by police," he said.
Mr Smith, of High Street, Gorleston, had worked for the Conservatives, but left the party in 2011.
'Smear' attempt
All candidates standing as councillors must obtain 10 signatures on nomination forms. The prosecution alleged that seven out of eight forms submitted by UKIP in the council election had contained forged signatures.
Giving evidence, Mr Smith claimed he submitted forms with genuine signatures, but these were later substituted in an attempt to smear him.
He stood down as UKIP's parliamentary candidate for Great Yarmouth after the allegations came to light.
Two UKIP party workers, who were also accused of being involved in electoral fraud, were cleared of all charges by the same jury on Monday.