Open Road charity says steroid abuser numbers 'greater than heroin'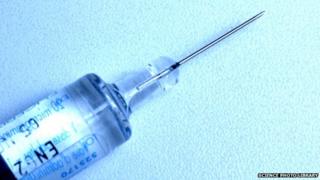 Three times as many new users of anabolic steroids are seeking treatment than those who have started using heroin, a drugs charity said.
Open Road, which operates in Essex and Suffolk, said 33% of visits for steroid problems last year were from new users, compared to 11% for heroin.
The charity said almost two thirds of its visits to needle syringe programmes were to help steroid users.
The Class C drugs should only be prescribed by a doctor.
Although it is not an addictive drug, some younger men are relying on steroids as a "confidence-building coping mechanism", the charity said.
Steroids can make users feel paranoid, aggressive and violent for no reason, as well as changing gender characteristics and increasing the risk of liver failure.
'Quick fix'
Open Road said in the last five years, the number of men being treated for steroid abuse in four areas of Essex had increased from 80 to more than 1,000.
Steve Wood, who manages the charity's sites in Basildon and Brentwood, said many of them were using the drug as a "quick fix" for fitness, particularly those who wanted to play sport.
His team runs needle exchanges to try to stop Hepatitis B and C and other diseases spread through the use of needles.
"These viruses are now affecting steroid users, so if we can actually teach people the dangers of them, hopefully we can educate them and eventually get them to stop," he said.