Demolition starts at Norwich Bally shoe factory site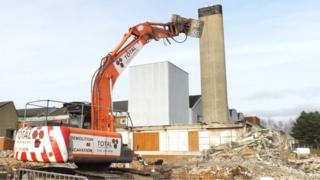 Demolition has started on the factory site of one of the last shoemakers in Norwich.
The Bally Shoe factory, on Hall Road, is to make way for a supermarket, petrol station, community centre, gym, business units and a pub restaurant.
The new project is expected to create more than 400 jobs.
Norwich city councillor, Keith Driver, said he was sad to see the factory go but welcomed the new community facilities.
Many people on the local estate lost their jobs when the historic factory shut and it remained empty for many years, Mr Driver said.
"As much of the old site as possible is to be recycled and a new road layout would avoid any congestion."
Mark Bennett, construction manager with main contractor Mace, said much of the rubble from the demolition would be used to build walkways in the Broads National Park.
A spokesman for Asda, owners of the new supermarket, said: "The new development represents a significant investment in south Norwich and will generate many jobs for local people.
"The initial demolition work will take three months, before we commence building the store and other facilities.
"We will continue to update the community on the development as we progress."
The store is due to be open in time for Christmas.