Michael Souter: Ex-BBC man loses sex attack appeals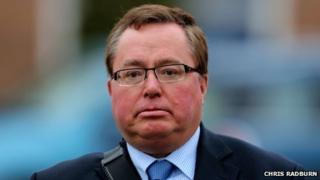 An ex-BBC presenter jailed for 22 years for sex attacks on boys has lost his appeals against his conviction and sentence.
Michael Souter, 61, of Loddon, Norfolk, was convicted in October 2013 of 19 sexual assaults on seven boys aged between 11 and 16 from 1979 to 1999.
Souter had worked for BBC Radio Norfolk in the 1980s.
Three judges at the Court of Appeal in London ruled his challenge was "without substance or merit".
They dismissed his renewed applications for leave to appeal against both conviction and sentence.
'Applicant in denial'
Ruling on the conviction application, Mr Justice Goss said there was "no basis for any allegation that the applicant did not have a fair trial".
The judge, announcing the court's decision to also reject Souter's sentence challenge, said: "This was indeed an appalling catalogue of sexual abuse of vulnerable victims over a protracted period. The applicant remains in denial.
"The sentence, though severe, accorded with sentencing practice, and appropriately reflected his culpability and the harm caused by his offending."
Souter was found guilty of a series of offences, including indecent assault, indecency with a child and seven counts of possessing indecent images of children.
He claimed his victims had lied.
When sentencing, Judge Mark Lucraft told him: "The childhood of many of your victims was destroyed and their lives blighted. You exploited your position to groom each of them."