Hickling bird-feeding couple faced eviction threat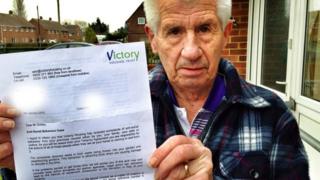 A retired couple were threatened with eviction from their home of 42 years for feeding birds in their garden.
Eric Goleby, 74, of Hickling, Norfolk, said landlord Victory Housing Trust warned about his "anti-social behaviour" in a letter.
The pensioner said he put food out in his front garden so his disabled wife Sally could watch the birds.
Victory Housing Trust said the tone of the letter, warning of possible legal action, was "unnecessarily harsh".
Mr Goleby said he received the letter after a neighbour complained that he threw out "food waste" for birds, which were causing damage to vehicles.
"It was crazy. We've been here 42 years and have always been feeding the birds," he said.
'It's her pleasure'
"We've got a bird table which we put mixed corn on - that's all we use - and a wooden tray stood on the lawn for the ducks to feed from.
"It said the birds are flying over and messing on their car but birds fly over all the time.
"My wife is totally disabled and she likes to see the birds coming to the garden - it's her pleasure."
Mr Goleby said he called the housing association immediately after receiving the letter, which said "we... may well consider legal action alongside our partner agencies".
He said: "I demanded the person who wrote the letter come out here."
Victory Housing Trust confirmed that a member of staff visited the couple and told Mr Goleby he could continue to feed the birds.
John Archibald, chief executive of Victory Housing Trust, said: "It became clear during the visit that Mr Goleby was not using food waste to feed the birds, and therefore there was no problem.
"We apologise if Mr Goleby felt threatened by our original letter, and we do accept that its tone was unnecessarily harsh.
"As a result we are reviewing the letters we send to ensure that they are more appropriate in the future."