King's Lynn waste incinerator: Eric Pickles blamed over £33.7m cost to council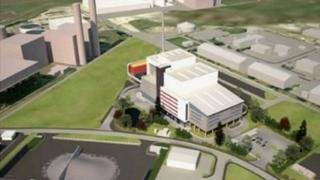 A £500m incinerator plan scrapped at a cost to taxpayers of £33.7m would have been backed for approval.
Norfolk County Council's incinerator plan for King's Lynn was abandoned in April after various planning delays.
Now a Freedom of Information request has revealed a planning inspector had supported the incinerator plans.
Councillor Toby Coke blamed Communities Secretary Eric Pickles for the delays and said he should do the "honourable thing and stump up £33.7m".
The UKIP councillor, chairman of the council's environment committee, said: "All the talk about Mr Pickles carefully considering the arguments have been exposed for what they were - complete rubbish.
"Eric Pickles should do the honourable thing and stump up the £33.7m that his delay has cost Norfolk taxpayers."
Bankruptcy fear
Mr Pickles had called in plans in 2013 after an unofficial referendum revealed strong local opposition to The Willows incinerator scheme.
The council had previously warned paying the bill could leave it "bankrupt" but voted to use £19m of its reserves and budget savings to meet the cost.
Local government minister Kris Hopkins said: "The decision to call in the application was made after representations from 23 Members of Parliament and peers, 48 local parish councils and 5,800 locally signed letters."
The planning inspector's report, revealing the plans would have been recommended for approval, was released to the council after a request under Environmental Information Regulations.
The report by inspector Elizabeth Hill was delivered to Mr Pickles for a decision on 30 September 2013.
It recommended "that planning permission is granted for an energy-from-waste and recycling facility at Willows Business Park" subject to conditions.
In April 2014, the council withdrew from the contract because of the failure to secure planning permission and the delay meant it no longer represented value for money.
This meant the council had to pay the developer Cory Wheelabrator £33.7m in compensation.
About £169m in funding for the waste incinerator was withdrawn by the government after a planning deadline was missed because of the delays.
The council is run by a Labour/Lib Dem/UKIP alliance with the support of Greens and independents.