Norwich bell-ringing school appeal launched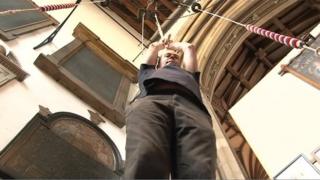 An ambitious bid to swell the numbers of bell ringers has been launched by a group that wants to set up a school for budding campanologists in Norwich.
An appeal is under way to try to raise £400,000 to establish the school at the city centre church of St Peter Mancroft.
One of the organisers of the project, Simon Rudd, said East Anglia boasts hundreds of churches with bell towers.
"There are lots of bells but not enough ringers," he said.
St Peter Mancroft is described as an ideal location for novice bell rope pullers, who by dint of tenacious toll toil could one day hope to become to campanology what Usain Bolt is to sprinting.
Mr Rudd said: "Our bells are notoriously difficult to ring and it is difficult to train people here."
He said that bell-ringing was in decline across East Anglia and the school hoped to remedy that.
The Bishop of Norwich, Graham James, local businesswoman Caroline Jarrold and the Marquess Townshend of East Raynham are all backing the campaign, which has been dubbed the Mancroft Appeal 300.
Mr Rudd set out the project's bold blueprint for putting Norwich on the map as a centre of campanology tuition.
"We have the loudest voice in Norwich when the bells are ringing and we want to show people how it's done.
"Everybody hears what we do but very few know how we do it.
"We now want to bring that knowledge to a wide audience and encourage them to take up the hobby, or even just learn what it is all about."