PCC Stephen Bett dismisses 'nonsense' expenses allegations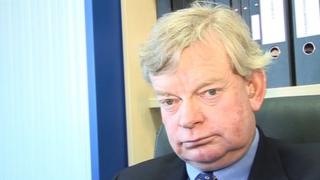 A police and crime commissioner (PCC) investigated over his expense claims has said allegations made against him were "nonsense from the start".
Norfolk PCC Stephen Bett was cleared of any criminal offences in an investigation after it emerged his home had been declared as his place of work.
He claimed expenses from his Thornham address for meetings at Norfolk police's Wymondham headquarters.
Mr Bett had already agreed to pay back expenses of £2,721.60.
He said: "The allegations of fraud made against me by a single individual were nonsense from the start so I am not surprised by the report's findings in this regard."
Enormous change
The City of London Police investigation, overseen by the Independent Police Complaints Commission (IPCC), criticised the standards of record-keeping that prevented close checking of mileage claims.
The decision to make Mr Bett's home his permanent work base was agreed verbally with his chief executive, the report found.
IPCC Commissioner James Dipple-Johnstone said: "Mr Bett's office has now put in place new arrangements for claiming travel expenses that should provide the level of accountability the public expects."
The publication of the report comes two months after it was confirmed Mr Bett would not face a criminal investigation.
Mr Bett said: "The IPCC report clearly shows that I took advice and guidance on my expenses claims and I followed policies then in place.
"The report notes some poorly recorded and poorly administered policies within the Office of the Police and Crime Commissioner for Norfolk at the time.
"This was during a period of enormous and unprecedented change for the office as they transferred from the old police authority set up to the new police and crime commissioner arrangements."
Mr Bett, who decided to repay the expenses after "discussions" with the force, "stepped aside" in June as part of the investigation but returned a month later.