Thai murders: Witheridge family's 'human faith' being restored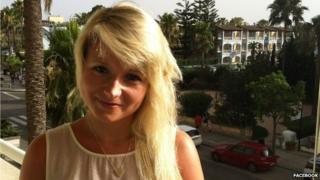 The "broken" family of a woman murdered in Thailand have said charity donations have gone some way to "restoring their faith in the human race".
The bodies of Hannah Witheridge, 23, and David Miller, 24, were found on a beach at Koh Tao in September.
Two Burmese men have been charged with their murder and her family are raising money to attend the trial in Thailand.
A family member's post on a charity website thanked everyone supporting them during their "impossible" time.
Writing on the Go Fund Me website, Laura Witheridge said they were hoping to attend the beginning and the end of the trial, which starts in July.
'Heartfelt thanks'
The family, from Hemsby, want to represent Hannah and to "hopefully, see justice done".
The family of five said they expected the cost of their flights, accommodation and an interpreter would run into thousands of pounds.
Ms Witheridge wrote that offers of support had come from a charity, family, friends and strangers.
"As always, I would like to extend our heartfelt thanks to each and every one of you who is able to support us during this impossible time," she wrote.
"We are incredibly grateful for the amazing, selfless, kind offers from those around us, including strangers in some instances.
"It is the selflessness and kindness of everyone around us that is going some way to restoring our faith in the human race."
Post-mortem examinations found Mr Miller died from drowning and a blow to the head, while Miss Witheridge died from head wounds.
Afterwards, the family said in a statement: "Our family is broken and require time to grieve in private - as do Hannah's many friends."
Burmese men Zaw Lin and Win Zaw Htun, are accused of killing the two on the island in September last year.