Australian Norfolk homage created by expat railway enthusiast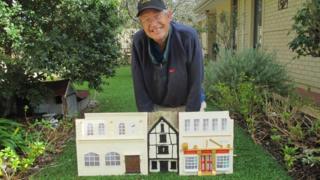 A British expat has created a miniature version of Norfolk in his new garden in Australia to help him remember home.
Chris Beckett, 59, who moved from West Runton two years ago, has built models of Sheringham town clock, his old social club and Colman's Mustard works.
The railway enthusiast says he makes scaled down versions of buildings he can remember best.
There are now about 10 Norfolk scenes along his garden railway near Perth.
The retired offshore and energy industry executive, who makes the figures out of junk for less than £10 each, said model-making had been a life-long hobby.
"The models remind me of home but I started them because I wanted something unique, not just building kits like most fellow modellers do," said Mr Beckett.
"Buildings from my past life were obvious candidates and I can explain to friends the origins.
"Each one has a back story."
Mr Beckett was chairman of West Runton social club for 10 years and his wife Jean was its treasurer before they emigrated to be with her family.
It is just one of the buildings he has painstakingly recreated in a 1:20-scale model.
However, his version of Cromer lighthouse - made to the plans of the 1936 rebuild which were provided by Trinity House within 24 hours of Mr Beckett's request - did not survive the 10,700-mile (17,300km) trip Down Under.
The favourite, though, is his tribute to Jimmy Randall's provisions cart, which served Norwich's Tuckswood estate where Mr Beckett grew up.
While the cart took just two days to make, Mr Beckett's reproduction of the city's renowned Colman's Mustard factory is still under construction two months after he started the project.
"I started out doing what I thought might be achievable and then realised any project could be figured out," he said.
"My wife thinks I'm mad but it keeps me off the streets so it's tolerated."