Terrington St Clement van crash house 'dangerously unsafe'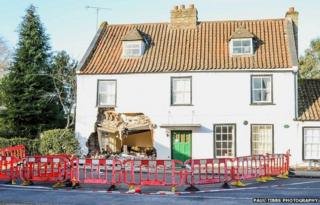 The owners of a 400-year-old home left "dangerously unstable" after a van crashed through the living room wall have said they were "shocked, but very, very lucky".
The vehicle crashed into the listed property in Terrington St Clement, near King's Lynn, on Tuesday evening.
Emergency services have cordoned off the area as it is feared the building's first floor could collapse.
The homeowner, who was in the front room at the time, escaped unharmed.
Peter Strudwick told BBC Radio Norfolk it was "miraculous" his wife, Heather, was not hurt.
"She was standing in just about the only position in the room where she didn't get caught by flying debris.
"She clambered out, she was very, very fortunate."
He added: "Not five minutes before I was sitting on a settee in front of the windows and that settee is now in two bits where the rubble from the window crushed it.
"We feel shocked, but very, very lucky."
Tony White, from Norfolk Fire and Rescue Service, warned the house was "dangerously unstable" as the first floor was likely to fall down. He advised people to "keep a safe distance away".
He added that the three occupants of the van had been able to get out of the vehicle unaided following the crash.
The area remains cordoned off as there is a risk of collapse, said the Norfolk Fire Service