£300m for RAF Marham fighter maintenance hub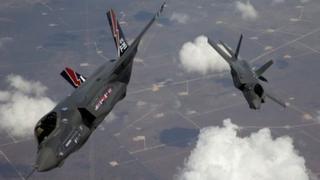 More than £300m is to be invested in RAF Marham as part of plans to create a European maintenance hub for a new generation of strike and fighter aircraft, it has been announced.
Prime Minister David Cameron said the funding, on new buildings and facilities, would create 1,000 jobs.
Last May it was announced the base would be used to maintain fighters deployed across Europe.
It would also be home to new F-35 Lightning jets from 2018.
The plans will secure the future of the 4,500 people employed at RAF Marham.
'Proud military past'
Mr Cameron said: "This is a clear example of how the decisions we have made... are enabling us to invest, creating the jobs, growth and investment that will benefit hard-working people here in Marham and across the UK."
Labour's Shadow Secretary of State for Defence, Vernon Coaker MP, said: "It is welcoming to hear the large number of skilled jobs being created in the East of England with the arrival of the first F-35B aircraft in 2018. The region has a proud military past and continues to play an important role in UK defence."
Lesley Graham, Green Party prospective parliamentary candidate for Norwich South, said: "We recognise the benefits new employment brings to the Eastern Region, but we want to see investment in green jobs and the cultivation of a world-leading renewable energies industry. "
A UKIP spokesman said: "We think there should be investment in the military, so we are absolutely delighted with the news of the investment in RAF Marham."
The Liberal Democrats have yet to comment.