Film student apologises over fake machete police alert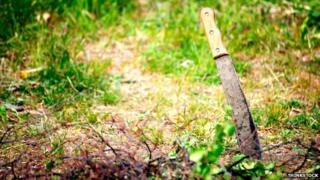 A student whose horror film project sparked a major police operation, which included the force helicopter, armed officers and police dogs, has apologised for his actions.
Officers were called to Mousehold Heath in Norwich on Wednesday evening after witnesses reported seeing a machete.
The search was called off after it was revealed it was a fake weapon being used in the student's film project.
The student has since apologised anonymously in a letter to a newspaper.
In the letter to the Norwich Evening News, the teenager said that in hindsight the sight of someone dressed in bandages at the side of the road, wearing a Trilby hat and holding a blood-splattered machete, may have alarmed passers-by.
'Blair-witch'
"I am incredibly upset at the response I have caused as a result of me trying to get a good grade and I completely understand the gravity of the situation," he said.
"The police dealt with everything in the best way possible, informing me of the severity of the situation as well as the procedures involved in this sort of subject matter that I was not previously aware of."
The boy said the film was a Blair Witch-style horror movie involving two actors in their 20s.
Supt Stuart Gunn, of Norfolk Constabulary, said "strong words of advice" were given to the boy.
He added: "We would kindly ask members of the public if they are planning any sort of activity or filming in a public place that may prompt concern amongst the public and, consequently trigger any police activity, to call us in advance so that we can give suitable advice."