Terrington St Clement crash house 'uninhabitable for months'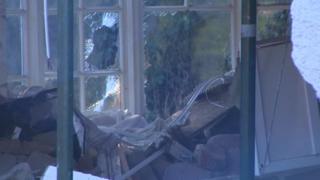 A house left "dangerously unstable" after a van crashed into it is unlikely to be habitable for months, the homeowner has said.
The property in Terrington St Clement, near King's Lynn, has been shored up since the crash on Tuesday evening.
Peter Strudwick said his insurers have told him it will be at least six months before he and his wife Heather can move back in.
Norfolk Police said no-one had been arrested following the crash.
Emergency services cordoned off the area following the crash amid fears the 400-year-old building's first floor could collapse.
Mr Strudwick and his wife, who was in the front room at the time, were unhurt.
"I am now angry more than anything else," Mr Strudwick said.
"If you look at the damage caused it does not take a genius to work out the car was not travelling at the correct speed."