Norfolk Police crash officer did nothing 'criminal', says report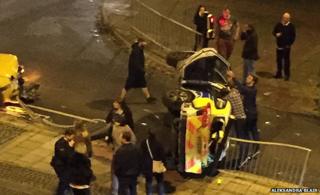 A police constable who crashed into a car while responding to a 999 emergency call did nothing "criminal".
A police report found the driver of the Fiat 500 it collided with should have "seen the blue lights" of the patrol car, as others had done.
The unnamed female Norfolk officer was injured after her car flipped on its side in Norwich in November.
The Ford Focus police car and the yellow Fiat crashed at the junction of St Benedict's Street and Grapes Hill.
Eyewitnesses said passers-by helped the officer out of her vehicle.
In a Freedom of Information request by the BBC, Norfolk Constabulary says the police constable received an emergency call while heading towards the Grapes Hill junction.
The officer set her blue lights and sirens on 28 November at about 21:30 GMT.
At the junction was a stationary car, and the police constable slowed to 18mph to negotiate the red light, passing the car and pulling away cautiously.
The report says: "She crosses the junction intending to go straight over into St Benedict's Street, and in the three seconds it takes to impact she accelerates to 31mph.
"She is struck by the yellow Fiat on the rear offside panel of her vehicle, she almost makes it across the junction."
The report says "all other witnesses see the blue flashing lights and hear the sirens clearly".
It concludes: "After this full review... there is no evidence to suggest that the police officer did anything criminal, her actions were careful negotiating the junction on a red light and witnesses confirm this.
"The Fiat driver in my opinion should have seen the blue lights.
"All witnesses at the scene saw the blue lights and heard the sirens. It was dark so these lights would have illuminated the sky for some distance."
But the report adds that a car waiting at the traffic lights to turn into Dereham Road may have blocked the sight of the police vehicle coming into the junction.