Pair burned in Gorleston 'gas blast' moved to specialist unit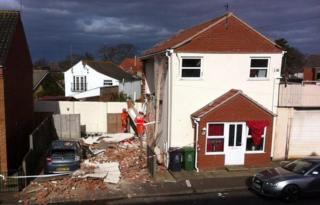 Two people who suffered serious burns after an explosion demolished part of the house they were living in have been taken to a specialist unit in Essex.
A suspected gas blast severely damaged the house in Fredrick Road, Gorleston, Norfolk, on Thursday morning.
A man in his 50s and a woman in her 40s were taken to Broomfield Hospital, Chelmsford, and treated for burns to their arms, upper body and face.
Firefighters are hoping to get inside the house to investigate the explosion.
Great Yarmouth Borough Council building control surveyors said the property was a dangerous structure.
Protective fencing has been erected and signs put up to safeguard the public.
"It is the responsibility of the property's owner to remove the danger before the fencing can be removed and the road re-opened," a spokesman said.
Local resident Kim Aeger said she thought a lorry had crashed on the nearby main road when she heard the explosion.
"I heard a woman screaming," she said. "I saw her and a man with burns so we called an ambulance.
"The woman was concerned about her cat and a lizard still in the house.
"The whole side of the building had gone and there was a strong smell of gas. The wall had collapsed onto the drive next to the house and had damaged a car parked there."