Sean Sands: Hunstanton kite surfing death to be probed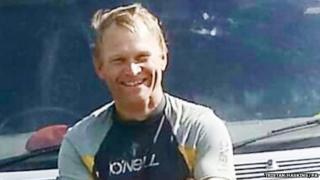 The death of a kite surfer who was unable to trigger his craft's emergency safety mechanism is to be investigated.
Emergency services were called after Sean Sands was spotted in the North Sea off Hunstanton, Norfolk, at 15:00 GMT on Saturday.
He was pulled unconscious from the water and airlifted to hospital in King's Lynn, where he died.
The British Kitesports Association said it would investigate the circumstances surrounding Mr Sands' death.
Tributes have been paid to Mr Sands, who was in his 40s and a member of Hunstanton Sailing Club.
'Terrible tragedy'
In a statement, the club said: "Sean lost control of his kite and for reasons not known to us yet, was unable to trigger his emergency quick release.
"Hunstanton Sailing Club have lost a true brother, a friend to so many and one of life's genuinely effervescent characters."
More than 150 people have left messages of condolence on the club's Facebook page.
One read: "There are no words fitting enough to comfort friends and family but the weight of this terrible tragedy is felt by all watersports users across Norfolk and beyond."
A flag flew at half-mast outside the sailing club over the weekend.
Mr Sands was also a member of King's Lynn Triathlon Club, which also posted a statement on Facebook.
It read: "I am sad to report that a fellow triathlete and good friend to many of our members had a tragic accident whilst out kite surfing yesterday.
"I would say on behalf of all our members that our thoughts are with Sean's family and friends."