Norwich City fan's mum roasts 16 tickets to Brighton match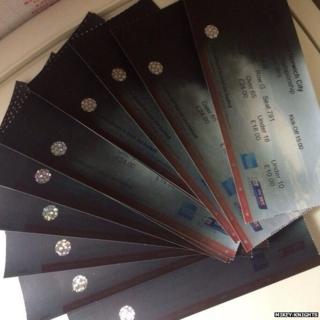 A Norwich City fan was left steaming when his mother accidentally cooked 16 tickets he had bought for an upcoming football match at Brighton.
Mikey Knights' mother accidentally picked up the envelope containing the tickets as she popped a chicken in to roast on Tuesday.
The charred remains, worth £500, were dished up by his red-faced mum when he arrived for supper.
Brighton and Hove Albion has agreed to provide him with replacements, he said.
Bricklayer Mr Knights, 28, from Taverham, Norfolk, said: "I went round for tea on Tuesday and my mum asked me if I was in a good mood. I said 'yes'.
"Then I was told the football tickets had got roasted."
His mother had put the roast-in-the-bag bird on top of the envelope, where it stuck firmly until she looked at the chicken 40 minutes later.
"There were the tickets, roasting away nicely," Mr Knights told BBC Radio Norfolk's football fanzine The Scrimmage.
"I thought it was a wind-up at first, but then I opened the envelope and the 16 tickets were inside, all black."
He had bought them on behalf of a group of his friends who regularly attend matches together.
"There wouldn't usually be this many tickets to cook, but as the match is on Good Friday more people wanted to come along," Mr Knights said.
His mother took them back to Norwich City and after a member of staff emailed the Brighton club, Mr Knights was told they had agreed to provide replacements on the day "as a goodwill gesture".
"I've already got my train tickets, but it's a good job those didn't go to my mum's address. She might have put them in for afters."
Norwich City and Brighton and Hove Albion face each other in the Championship fixture on 3 April.