Norwich kitten survives 'despicable' attack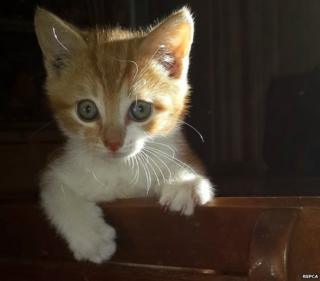 An eight-month-old kitten that had his back legs "smashed" and tail broken in a "despicable attack" is "lucky to be alive", the RSPCA said.
Buster was found by his owner in a Norwich garden having been battered and swung around by his tail.
An examination revealed a hand print on his skin as if "squeezed with a lot of pressure", a spokeswoman said.
Veterinary staff had to amputate Buster's tail as it was dislocated, but he is now "on the mend".
Buster's owner, Prof Amanda Hopkinson, said he had the "sweetest nature" and it was "incomprehensible that someone has done this to him."
'Extremely frightening'
The animal's injuries, sustained on about 10 March, were so severe it was initially thought he had been involved in a road accident.
Ben Kirby, an inspector with the RSPCA, said: "This was a despicable attack on a little kitten and would have caused great suffering.
"Whatever happened it must have been extremely frightening for the kitten and upsetting for the owners. Buster is lucky to be alive.
"We would like to hear from anybody who has any information about this incident."