Heinz Norfolk potato plant sold to processor Albert Bartlett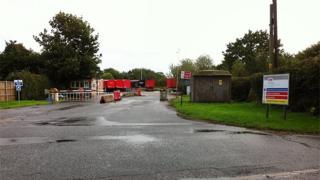 A potato factory in Norfolk, under threat of closure by international food firm Heinz with the loss of about 200 jobs, has been thrown a lifeline.
The Westwick site in North Walsham will be sold to potato processor Albert Bartlett when it shuts in April.
Heinz announced the closure in December after failing to find a buyer for the factory as a going concern.
Airdrie-based Albert Bartlett confirmed it had bought the site and said it would release a statement later.
It is not yet clear if there will still be any job losses or loss of production following the handover.
Heinz said its employees would receive a redundancy package.
Heinz also said it had worked closely with local employment organisations and North Norfolk District Council to ensure the workforce had opportunities for further employment and this included a careers fair last month.
Sheila Oxtoby, chief executive of North Norfolk District Council, said: "After all the uncertainty about the future of the plant over the past six months, the news that Albert Bartlett is acquiring the Westwick factory is fantastic and a really positive development for the local economy.
"Albert Bartlett is a growing, international company and we are committed to offering our fullest support and working with them to ensure the best possible outcome for the local economy and people of North Walsham."
The Usdaw union, that represents many of the workforce, is also expected to comment later.