Lingwood train driver error caused Norfolk crossing crash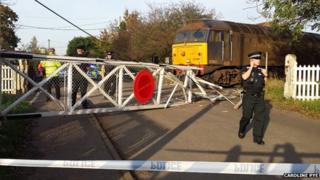 A mistake by a train driver has been blamed for a rail crash that demolished closed level crossing gates in a Norfolk village.
A train cleaning leaves from the line between Norwich and Great Yarmouth ignored warnings and hit the gates in Lingwood on 31 October 2014.
Network Rail said both gates were "struck, damaged and removed by the impact" but no-one was injured.
Direct Rail Services said it had "re-briefed and retrained" the driver.
An investigation found the cause of the crash was a combination of driver error and infrastructure failures.
The train was using water jets to clean leaves from the rails and went through Lingwood village at about 14:00 BST.
A signal normally operated by the crossing gatekeeper was not showing a clear warning, the Network Rail report said.
The driver, employed by Direct Rail Services, should have stopped anyway if procedures had been followed, but the train did not even slow down.
An audible signal from a back up system sounded in the cab and the driver acknowledged this but did not take appropriate action, the report said.
A Network Rail spokesperson said: "A combination of factors led to this incident and clearly it should not have happened.
"We have implemented measures to prevent this situation from happening again."
The signalling on this line is due to be upgraded in 2017.
Chris Connelly, a director of Direct Rail Services, said: "A combination of infrastructure and human error contributed to the event.
"Direct Rail Services has retrained the driver and incorporated lessons into its training programme."