Great Yarmouth woman's face bitten like 'chewy toy'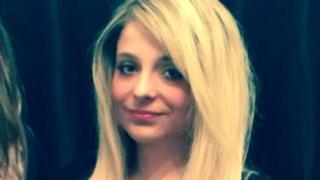 A woman's face was gnawed like a dog's "chewy toy" when she was attacked while walking home from a nightclub.
Laura Franks, 21, of Great Yarmouth, said she needs reconstructive surgery after her nose and face were bitten in an attack by another woman.
She said doctors have told her she will be scarred as a result.
Norfolk Police said a 20-year-old woman has been arrested on suspicion of assault and released on police bail.
Shop worker Ms Franks was walking home with a friend from The Ocean Rooms in Gorleston at about 02:00 GMT on 28 March when she passed her attacker.
'No argument'
"It was completely random," she said.
"I heard 'Oh, sorry love' and the next thing I know she was biting into my face.
"I can't remember an argument or anything, there was no shouting - she was biting into my face and nose.
"I couldn't really see anything as her face was so close to my face - it was like I was a chewy toy.
"It took two men to get her off me."
Ms Franks said she was left lying on the ground and then had to spend three days in two hospitals.
"I was told I'd be scarred," she said.
"A nurse told me it would take at least six months before they could do anything in terms of reconstructive surgery."
It has taken her nearly three weeks to venture out of her home again after having her stitches and dressings removed.
"I am not seeing the plastic surgeon until September - so it will be a blank canvas and everything will have settled down," she added.