Hope Not Hate campaigner abused on Twitter after UKIP councillor assault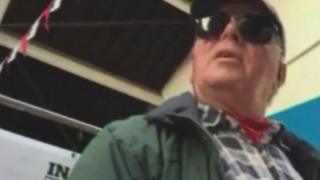 A campaigner who was assaulted by a UKIP councillor has received homophobic abuse on Twitter.
Hope Not Hate campaign organiser David Braniff-Herbert, 30, was involved in an altercation with Tom Andrews in Great Yarmouth on Saturday.
Mr Andrews, 73, was arrested and given a caution for minor assault.
Mr Braniff-Herbert said he had received "threatening" and "violent" abuse on the social media site based around his sexuality.
"It's really, really horrible," he said. "I consider myself a strong person but you read through the messages and it's visceral hate - the worst of the worst."
Mr Braniff-Herbert, who lives in London but is currently based in Great Yarmouth, said he was preparing for a leaflet drop at Drill House on York Road when Mr Andrews appeared.
He said Mr Andrews refused to leave when asked, became aggressive and slapped him.
"I accept police have reprimanded him and this will go on his record," Mr Braniff-Herbert said.
Mr Braniff-Herbert said he was considering taking police action over the Twitter abuse, which he said included a message saying "I wish you had Aids".
"The words they are using are really threatening," he said. "This is hate crime, they are having a go at me because I'm gay."
BBC News Online has been unable to reach Mr Andrews for a comment about Saturday's incident.
He was elected to Great Yarmouth Borough Council last year.