Thailand tourist murders: Defence lawyers seek evidence re-examination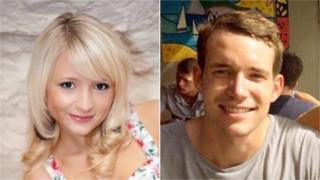 Key evidence that led to two men being charged with the murder of a pair of British backpackers on an island in Thailand could be re-examined.
Hannah Witheridge, 23, of Hemsby, Norfolk, and David Miller, 24, from Jersey, were killed on Koh Tao.
Zaw Lin and Win Zaw Htun, both 21-year-old bar workers from Burma, are accused of their murder last September.
Their defence lawyers are set to request that exhibits and DNA evidence are re-examined ahead of a trial.
The Burmese pair also face a rape charge and are set to stand trial on 8 July.
'Right people' for trial
A pre-trial hearing is due to take place in a court on Koh Samui on Thursday.
The defence team will request that several exhibits be sent for forensic re-examination and that the Royal Thai Police provide additional information about DNA evidence in the case.
"The judges who will consider this case want to ensure the case hearings are managed in a correct manner with speed, efficiency and fairness in line with societal expectations for a fair trial that is also internationally accepted," the MWRN said.
The defendants are said to have confessed under pressure from local police shortly after the killings but have since retracted those statements.
Both of the victims' families have previously said they are keen to see the "right people" convicted.