Great Yarmouth dinghy prank man in lifeboat rescue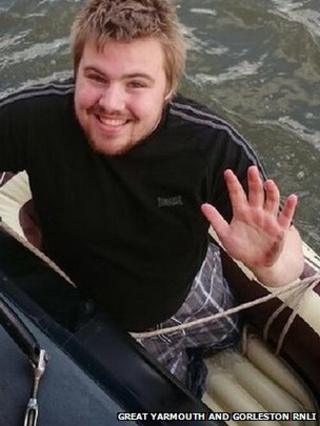 A man who was pushed out to sea in a dinghy for a joke by his friends and then carried off by strong winds has been rescued by lifeboat crews.
Great Yarmouth and Gorleston lifeboats were called to reports of a man, 22, in a dinghy near Britannia Pier, Great Yarmouth on Thursday afternoon.
He did not have any paddles when he was found. He was taken to Gorleston.
Lifeboat crews said it was a "prank gone wrong", and Coxswain Paddy Lee added: "He is a very lucky man".
"This could have easily been a different outcome. He was being blown offshore into wind farm traffic and shipping lanes.
"The dinghy was losing air. The sea is still very cold," he said.