Welney wagtail nest halts grass cutting at Norfolk WWT reserve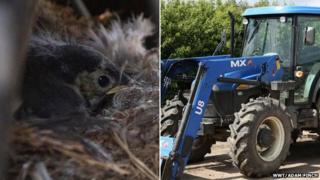 Grass cutting has been put on hold at a nature reserve after a family of birds was found nesting in a tractor engine.
A pair of pied wagtails and their four chicks were discovered tucked inside the vehicle at the Wildfowl and Wetlands Trust (WWT) centre at Welney on the Norfolk/Cambridgeshire border.
Warden Louise Clewley found the nest after following the parent birds when she noticed them carrying insects.
She said mowing would resume soon as the chicks were almost ready to fledge.
Ms Clewley said most birds chose to make their homes in "the obvious places like the open-fronted nest boxes". However, having crawled around in the nettles, she eventually traced the birds.
"I found they had actually chosen the engine of the tractor," she said. "I think these guys wanted to stand out from the crowd."