Goose Green ducklings freed from asphalt with butter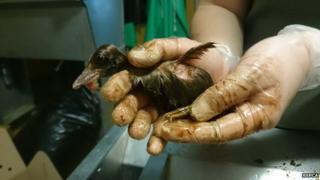 Five ducklings discovered "stuck fast" to melting asphalt are recovering after rescuers used butter to free them.
Passers-by found the hot weather casualties at Goose Green in Ashill, Norfolk, on Wednesday.
Staff at the RSPCA centre at East Winch loosened the tar with butter before bathing the birds in washing-up liquid and warm water.
Manager Alison Charles said: "Butter is an old fashioned remedy for removing tar and it really works.
"The weather was so hot yesterday that the road suface was melting.
"All five ducklings were so poorly when they came in we weren't sure they were going to make it."
However, after treatment they are now "eating, drinking and chirping away in our orphans' room," Ms Charles added.