Norwich explosion: Two men aged in 20s and in 50s died at scene
Two people have died in an explosion at an industrial estate in Norwich.
Norfolk Police said the men, one aged in his 50s and one in his 20s, died shortly after 09:00 BST.
"Officers can confirm that two people have sadly died at the scene," a spokeswoman said. "Initial reports from the scene suggested an explosion had taken place."
Both men are thought to have worked at the premises.
It happened at a company called Harford Attachments, which makes buckets for the front of diggers.
Staff were evacuated to a nearby bathrooms company.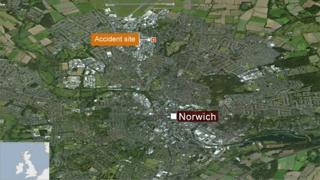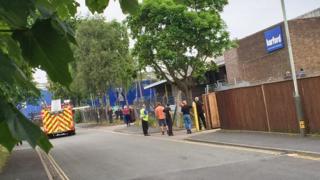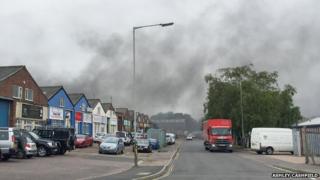 East of England Ambulance Service said three people were treated for the effects of smoke inhalation at the scene.
Fire crews and the air ambulance were also called to the scene.
Ashley Cashfield, who works at a nearby building, saw "very thick, black plumes of smoke rising quite slowly" from Harford Attachments, before the emergency services arrived.
"It didn't look very nice at all," he said. "There was lots of panic in people's eyes."
Norfolk Fire Service earlier told BBC Radio Norfolk there had been an explosion at the site. However, reporter Bob Carter visited the industrial unit and spoke to workers who said they had not heard any loud bangs.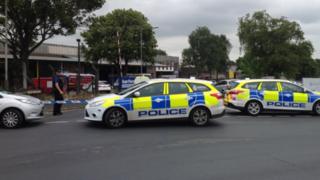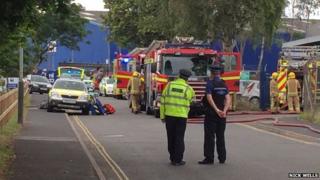 Scott Norman, from the fire service, said work was being carried out to make sure the scene was safe, before the case was passed to the Health and Safety Executive and police.
He said it was "looking most likely" that the explosion happened in the "paint-spraying area" of the unit.
The crew of the East Anglian Air Ambulance that attended did not include the Duke of Cambridge, who began work with the charity on Monday.
Chloe Smith, Conservative MP for Norwich North, reacted to the news on Twitter: "My thoughts are with family, friends & colleagues of two people tragically killed in an industrial explosion in my constituency today."
---
At the scene: Laura Devlin, BBC News
There were about 50 people on site at Harford Attachments when an explosion is thought to have happened, shortly after 09:00.
Speaking to members of the press at 13:00, Supt Dave Marshall said it had yet to be confirmed whether an explosion had taken place, nor could he say what the men were working on at the time.
Supt Marshall sent his sympathies to the families of the two men.
Forensic officers have arrived at the industrial unit, which remains cordoned off.
---