Prince Charles and Duchess of Cornwall meet Sandringham show eagle in a flap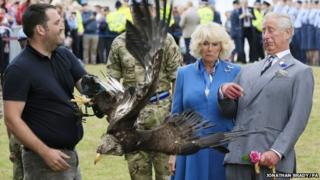 Prince Charles had a close encounter with an eagle in a flap as he visited a flower show earlier in Norfolk.
The prince and Camilla, Duchess of Cornwall, were meeting the Army Air Corps' mascot, Zephyr, a bald eagle, on the Sandringham estate.
In the past the prince was forced to dodge its wings as he handled the bird.
Zephyr chose to display the same behaviour this year. The prince said: "That's why I'm not holding him. I've learnt from experience."
He added: "I'm keeping well back."
The Royals were greeted by thousands as they visited some of the displays.