Prince Harry surprises villagers on Walk of Britain trek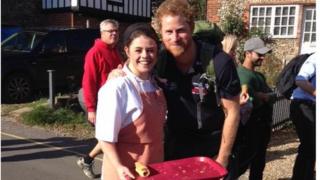 Prince Harry surprised the residents of a Norfolk village when he walked through it as part of a charity trek.
He passed through Little Walsingham as he joined veterans taking part in the Walk of Britain, a 1,000-mile (1,600km) trek from Scotland to London.
Shannon Warby, who works for Walsingham Farm Shop, said it was "incredible" to meet him.
She baked sausage rolls for the veterans, not realising the royal visitor would be among them.
"I said to him 'Do you want a sausage roll?' and he said 'Yes, I would love one. Thank you,'" she said.
"He did say they were actually beautiful. He is a true gentleman.
"It was an absolute honour and an amazing thing to happen to our village."
Six wounded soldiers, who all have injuries sustained in the line of duty, are taking part in the trek.
They set off from Scotland on 22 August and will arrive at Buckingham Palace on 1 November.
The team has raised nearly £75,000 so far for Walking With The Wounded.
Prince Harry has supported the charity since it was formed, taking part in the trek to the North Pole in 2011 and to the South Pole in 2013.