Norfolk farmer Tony Martin faces no charges over firearms arrest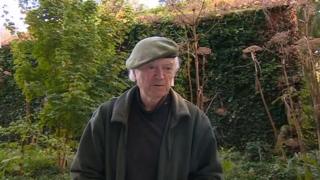 Farmer Tony Martin who was jailed after shooting and killing a burglar in 1999 will not face any fresh firearms charges.
Norfolk Police said they arrested a 71-year-old on suspicion of firearms offences after searching a property near Wisbech on New Year's Eve.
Officers said the raid on the farmhouse at Emneth Hungate was based on "credible intelligence".
Police have said Mr Martin will face no further action.
The farmer was at the centre of a national debate after he caught Brendon Fearon and Fred Barras at the farmhouse where he lived alone in 1999.
He fired his shotgun towards the intruders, killing 16-year-old Mr Barras.
Live updates on this and other Norfolk stories
He was found guilty of murder in 2000, but his conviction was reduced on appeal to manslaughter after serving two-thirds of a five-year jail sentence.
After his arrest in December 2015, he was freed on police bail until February.
Det Ch Insp Andy Coller said: "Following the arrest a thorough search was conducted and officers seized a firearm, which was believed to be an air weapon.
"However following further enquiries, it was deemed not to be a viable weapon due to its condition."