Wayland prisoner 'grabbed keys from officer'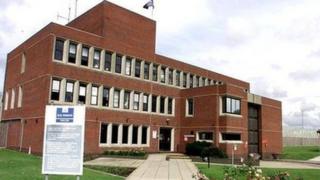 An inmate at a prison grabbed keys from an officer and, while he was being restrained, a second prisoner tried to take another set of keys.
An internal prison report seen by the BBC says the the inmate ran down a landing with the keys at HMP Wayland.
"As he was being restrained another prisoner attempted to grab another officer's keys," the report adds.
A Prison Service spokesman said both men had been transferred to a higher security jail.
They also face additional time added to their sentences.
Both men were "quickly apprehended" during the incident on A wing at about 09:00 BST on 27 May, the report states.
Wayland, near Watton in Norfok, is a Category C men's prison with just over 1,000 inmates.