WhatsApp imposter jailed for 13 years for raping Norwich woman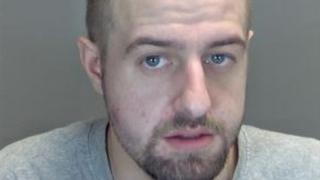 An imposter who used WhatsApp to pose as a woman's friend before raping her has been jailed for 13 years.
Tobias Grayston, 26, had contacted his victim on the messaging app, claiming to be someone else she knew.
He arranged to meet her away from her home, but instead lay in wait in her bedroom, tied her up when she returned and raped her, police said.
Jurors at Norwich Crown Court found Grayston, of Music House Lane, Norwich, guilty by a unanimous verdict.
Over five days, the court heard how he left his victim's home after she persuaded him she would not tell anyone what had happened.
But she raised the alarm after he left and he was arrested later the same day, in February.
'Horrible case'
Grayston refused to answer police questions beyond denying the offence and chose not to be cross-examined in his own defence.
He was jailed on Tuesday for 13 years with a further three on licence, and placed on the sex offenders register for life.
Det Con Dave Sorrell, from Norfolk police's rape investigation unit, said: "This was a horrible case where the offender used social media and messaging apps to prey on his victim.
"I would like to commend her on her bravery in coming forward following her ordeal.
"I would also like to highlight the importance of being safe online and the potential dangers it can pose."