Anglo-Saxon pendant: Norfolk treasure find links to 'royal' past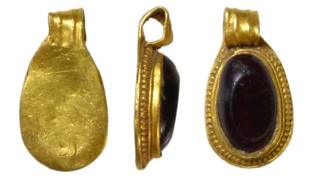 A pendant which has been declared as treasure provides another piece to an "amazing jigsaw" of Norfolk's Anglo-Saxon past, experts have said.
The 7th Century object was found by a metal detector near Diss in south Norfolk.
Assistant coroner Johanna Thompson concluded it was treasure on the advice of Norfolk County Council's Heritage Environment Services (HES).
Experts hope it will now be acquired by the museum service.
'High status'
County archaeologist David Gurney said it would have once been worn on a necklace by a woman of high status or royalty.
"It's a gorgeous object, made of gold with a lovely garnet setting inside it. Such objects are not unknown but are quite rare," he said.
He said six others have been found across the country, including on the Isle of Wight. Mr Gurney said the latest pendant could be linked to the discovery of a female skeleton in February 2015.
"It is more evidence that people of high status lived in south Norfolk in the 7th Century," he said.
"It's another bit of this amazing jigsaw that's slowly coming together."
For more stories and features about historical objects which lie beneath follow BBC England's archaeology Pinterest board.