Trapped squirrel rescue cancelled after rodent 'self releases'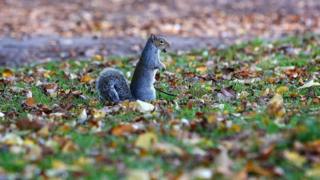 A firefighter was sent to a rescue a squirrel after reports it was stuck up a telegraph pole only to find it had "self released", a fire service said.
Norfolk Fire and Rescue Service said an officer was "mobilised" to Wymondham just before 15:00 BST on Thursday.
But their services were stood down as the rodent had managed to free itself.
The incident was met with mirth on social media, where one Twitter user quipped: "I'm sure the squirrel is embarrassed enough as it is".
"Why was the call even authorised at the first place?" asked someone else.
The fire service originally said the animal was stuck up a tree but later clarified its legs were twisted in wires up a telegraph pole.
A spokeswoman said a member of the public phoned in after seeing the squirrel in distress, and a nearby fire officer was called.