Norwich City Murphy brothers bet pays out despite mix-up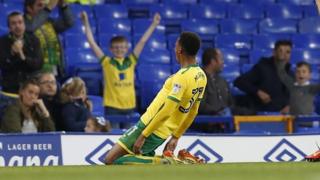 A football fan who bet on a twin scoring a goal won £45 - despite betting on the wrong brother.
Norwich City is currently home to identical twins Josh and Jacob Murphy.
Fan Ashley Howell accidentally put down £10 on Josh rather than Jacob scoring a goal in Norwich's fixture against against Burton Albion on Saturday.
But Paddy Power paid out on the wrong brother scoring - a mistake Mr Howell then admitted to the firm.
Live: For more on this and other Norfolk stories
Mr Howell said he thought the odds on Jacob scoring "seemed quite good".
He said: "I thought, I'll put a 'tenner' on that. Then when I looked back I realised I had put the money on Josh Murphy accidentally.
"But then Paddy Power had also got confused and paid out on Josh Murphy.
"I managed to keep quiet about it until Sunday but then my conscience got the better of me, so I contacted Paddy Power to explain what had happened.
"They said due to the fact I had been so honest they've let me keep the winnings anyway."
Paddy Power spokesman Lewis Davey said: "We all make honest mistakes, the confusion is quite easy to make."