HMP Wayland inmate sentenced for attack on prison governor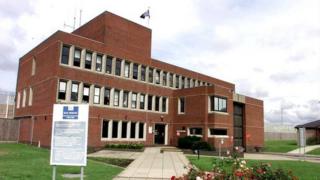 An inmate who attacked a prison governor leaving him with no sensation on one side of his face has been sentenced to three years.
Thomas Howard, 34, pleaded guilty to two counts of assault causing grievous bodily harm after attacking Paul Cawkwell at HMP Wayland in Norfolk.
He also attacked a dog handler in the two separate incidents that happened on 23 and 27 July.
Mr Cawkwell suffered multiple fractures.
For live updates on Norfolk news
Howard was sentenced at Norwich Crown Court on Tuesday.
It has not been disclosed what he was originally serving time for at HMP Wayland or for how long.