Feltwell man jailed for Boughton Doctors Surgery explosives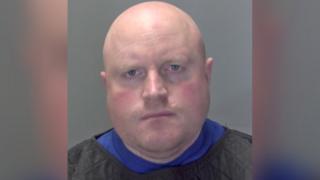 A man with a "fascination for explosives" has been jailed for posting three homemade bombs through the letterbox of his doctors' surgery.
Ozzie Welsh, 40, sent the explosives to Boughton Surgery, near King's Lynn, Norfolk, in January 2016 after a disagreement about his prescription.
Police were called when staff found minor damage in the foyer along with canisters and ball-bearings.
Welsh was sentenced to five years after admitting possessing explosives.
The Old Bailey heard Welsh, of Short Lane, Feltwell, had anger management problems and was a regular patient at the surgery.
Judge Mark Lucraft QC said surgery staff described Welsh as "unpredictable" and "difficult, but not violent" at his frequent appointments.
The judge said Welsh planted the devices to "terrify" the staff, after leaving a doctor's appointment "angry and agitated" on 27 January.
When his house was searched officers uncovered a stash of chemicals which could be used to make bombs and seized a laptop and diary, which both contained details and research about bomb-making, police said.
Officers also found a diary entry which said: "I have a fixation and a fascination with explosives ... I have the power over them, I'm their God, I decide."
He admitted to posting the devices, in a written statement to police, through anger because of the difference in opinion about his medication.
He pleaded not guilty to committing an act with intent to cause an explosion. That charge will lie on file.