Tractor driver hit by Norwich to Cambridge train 'given insufficient time'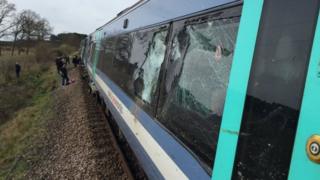 A tractor driver seriously hurt when he was hit by a train at a level crossing was given insufficient time by a signaller, a report has found.
The Norwich to Cambridge passenger train struck the tractor at Roudham, near Thetford, in Norfolk, last April.
A minute before the crash, in which the train driver and several passengers received minor injuries, the tractor driver was given permission to cross.
Investigators said the signaller might have had a lapse in concentration.
Helen Warnock, Network Rail's senior incident officer for Anglia, said: "We take on board the recommendations outlined in the report. Since the incident at Hockham level crossing in April 2016, we have already made a number of changes to improve safety.
"Reducing the risk at level crossings remains a top priority and we are committed to make level crossings as safe as possible for everyone. Our thoughts remain with the injured tractor driver and those affected."
The report by the Rail Accident Investigation Branch (RAIB) said that safety concerns had caused a green and red light crossing system to be decommissioned, meaning those wishing to cross had to telephone a signaller.
But, the report said, the arrangements in the Cambridge signal box for managing fatigue of signalling staff were "inadequate".
The RAIB made three recommendations to Network Rail following the crash:
For Network Rail to either eliminate the need for a signaller to make a decision like this or provide better information for signallers when making them
Investigate the processes when introducing new signalling equipment which differs from the existing technology
Investigate the management of signalling shift managers when they also operate signalling equipment
There were 135 passengers on board the Abellio Greater Anglia train and paramedics treated 10 people at the scene of the 10 April crash.