'Long neck of the law' apprehends swan on A47 near Norwich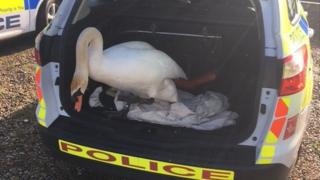 A swan was given a "lift" by the "long neck of the law" after causing chaos during the morning rush hour.
The bird landed on the A47 near Norwich at about 07:00 BST and took a waddle through the traffic.
The swan kept Norfolk Police officers busy for about 40 minutes as they created a rolling roadblock to protect it, before persuading the winged wanderer into the boot of their car.
The beleaguered bird was later released safely into water nearby.
More on this and other news from Norfolk
The bird caused gridlock at the Postwick junction, on the outskirts of the city, with commuters tweeting about lengthy delays.
"Only in Norfolk would there be mile-long traffic delays because of a swan planting itself in the middle of the dual carriageway," one wrote.