North Walsham hit-and-run driver jailed for 10 years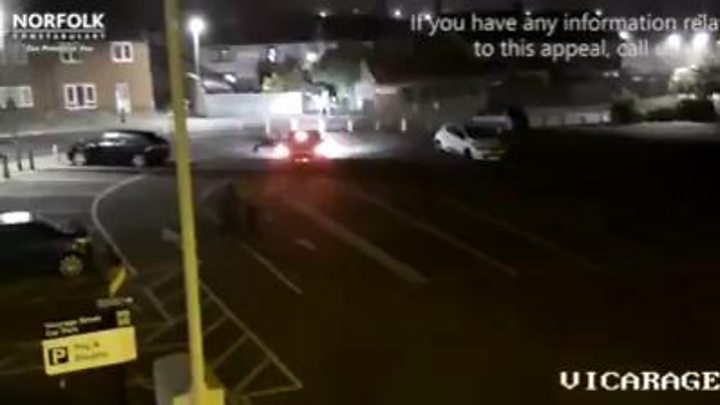 A motorist who drove into a group of friends - throwing one man up into the air and leaving him with a broken pelvis - has been jailed for 10 years.
It was only "pure chance all three were not killed" during the hit-and-run in a car park in North Walsham, Norfolk, last year, the judge said earlier.
Darren Blackmore, 44, admitted causing grievous bodily harm with intent.
Norwich Crown Court heard he was high on drugs and talking on the phone at the time of the crash, filmed on CCTV.
One of the people he hit, Matthew Knowles, 30, suffered multiple fractures and now has a permanent limp.
Judge Mark Dennis told Blackmore, formerly of Cantley Lane, Norwich, it was a "gratuitous act of violence" against "three innocent people" who were "defenceless, unaware," and "unable to protect themselves".
"You used the car as a weapon," he added.
Blackmore was filmed driving back round and narrowly missed Mr Knowles as he drove past him a second time in Vicarage Street car park in the early hours of 23 July.
Prosecutor Stephen Mather said the victim was "struck so hard he goes into the air 12-20ft" (3.6-6m).
Mr Knowles suffered fractures to his pelvis and calf bone, as well as a shattered kneecap when he "happened to be in the wrong place at the wrong time", the court heard.
In a victim impact statement, the father-of-one said he required splints to walk and at one stage it was thought he might not be able to walk for a year.
"I can't say in words how bad it was," he said.
Blackmore's Peugeot 307 was found burnt out about six weeks later near Norwich.
He has a string of convictions for firearms, drugs, burglary and battery offences stretching back 30 years.
Sammi Horner, 35, of Market Place, North Walsham, was cleared last week of encouraging Blackmore to drive into the men.