Marine Le Pen Twitter bet hoax man wants apology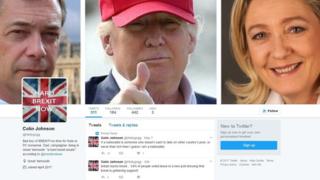 A man wrongly linked to a hoax Twitter account about a bet on Marine Le Pen to win the French election has said he is not racist and is owed an apology.
Colin Johnson, from Great Yarmouth in Norfolk, shares a name and location with a character made up by an anonymous Twitter user.
As first reported in the Guardian, the fake Colin said he "wanted to create a story" of an "obnoxious Brexiteer".
The real Colin said he had previously not heard of "this Le Pen person".
He added: "I thought it was just a flash name for a pencil - although I know exactly who she is now."
The hoaxer, tweeting as @Wollygogg, claimed to be a disappointed Brexiteer who was trying to get back from a bookmaker £500 he said his 13-year-old son had bet on Ms Le Pen winning the French presidential election.
Mr Johnson said his email inbox was soon "chock-a-block with reporters" wanting to speak to him, and the Daily Mail printed his picture beside the fake Colin's tweets.
He has a 14-year-old autistic son, who he said people were "looking to try and find who is this boy... going out betting?"
Mr Johnson, who has a YouTube account which helps people with debt problems, parking fines and bailiffs, said he was approached by internet trolls, one of whom said "you'd better take your channel down because we're going to destroy it".
He asked the hoaxer, who has now taken down the account, to apologise and "have the guts to come and see me, or at least call me, contact me and explain yourself".
The BBC has contacted the Daily Mail, which has removed Mr Johnson's picture from its website, for a comment.