Horsey Windpump: Cap returned in 'momentous moment'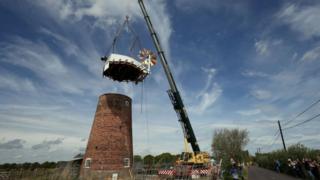 The revolving cap of a windpump has been lifted back into place as part of a project to restore it to working order for the first time in 75 years.
The timber top of Horsey Windpump, near Great Yarmouth, has taken a year to restore as part of a £305,000 project.
Replacing the 15-tonne cap and brake wheel was described as a "momentous moment" by the building's owners, National Trust.
It will become one of the few working windmills in Norfolk, it said.
Paul Coleman, project manager for National Trust, said: "It was hit by lightning in 1943 and that was the last time it operated as a windpump... so this is really a momentous moment for the trust to get a fully functioning, turning windmill on the Norfolk landscape.
"There are a lot standing as silhouettes on the landscape, but... it is so close to the road people can get to see it rather than trudging miles over the Fens and marshes."
The sails will be replaced by the end of the summer after storm damage prompted the last set to be removed in 2014.
Visitors will eventually be able to climb to the top of the five-storey pump to see it at work as it did when it was used to drain surrounding land.
"It will be good to show people the industrial heritage we had and power of these machines," said Mr Coleman.