Norwich hospital and airport cyber-attack: Man charged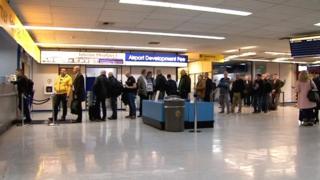 A man arrested in connection with two cyber-attacks in Norfolk has been charged under the Computer Misuse Act.
Daniel Devereux, 30, of no fixed abode, is accused of hacking into the website of the Norfolk and Norwich hospital in September 2015.
He is also charged with accessing the external website of Norwich Airport two months later.
Mr Devereux will appear before magistrates in Norwich on Thursday.
In November 2015, a man contacted BBC Radio Norfolk saying he had hacked into Norwich Airport's website.
Identifying himself only as "His Royal Gingerness", the man claimed he wanted to expose how vulnerable the airport was.
A police investigation was then launched.
Mr Devereux is facing two charges under Section 1 of the Computer Misuse Act, which relates to unauthorised access to computer material.