Daniel Minton's parents wanted in abduction probe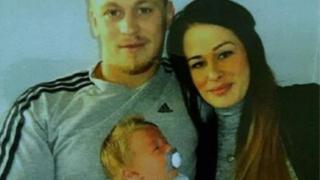 A couple suspected of abducting their seven-month-old son after a court found they posed "a risk of harm" to him are being sought by police.
Daniel John Minton, his father, also called Daniel Minton, and mother Tory Smith were last seen in Swaffham six weeks ago.
Norfolk police said the couple had been subject to a family court ruling.
It is believed the family, last seen in the Orford Road area, might be in Wisbech, Cambridgeshire.
Despite "wide ranging" investigations, the force said, it had failed to find the baby.
Mr Minton is white, 5ft 8in (1.72m) to 5ft 10in (1.77m) tall and of stocky build. He has short blond hair, usually shaven, with blue eyes and tattoos on the left side of neck and his left hand.
Tory Smith is described as white, 5ft 8in (1.72m) to 5ft 9in (1.75m) tall and of slim build. She has very long, black, straight hair which is possibly now dyed blonde. She has blue eyes and a tattoo on her left wrist.