Kerri McAuley death: Woman bludgeoned to death after row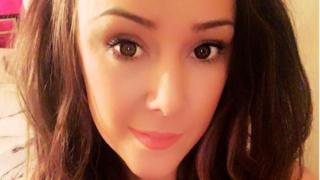 A man accused of murdering his "on-off" partner, who suffered 19 separate injuries to her head and face, has described hitting her after a row.
Joe Storey, 27, denies murdering Kerri McAuley, 32, who was found dead at Southalls Way, Norwich on 8 January, but admits manslaughter.
Mr Storey said he was high on cocaine when he punched Ms McAuley after a row about an ex-girlfriend.
He told Norwich Crown Court: "I honestly don't know [why he hit her]."
Mr Storey, of Murrells Court, Norwich, admits the pair had a turbulent relationship.
He was staying at Ms McAuley's home when she confronted him about his ex-girlfriend who she thought was back in contact with him.
Mr Storey said he struck her five or six times and had a phone in his hand at the time but insisted had "not to hit her with it".
He said: "I was admittedly wrong in what I did." He said he told her "I loved her very much and wanted to sort things out for the future".
Mr Storey said he did not call for help for her because he panicked, although he expressed remorse at the decision, which left him feeling "disgusted" about himself.
He said he did not try to clear up the mess in the flat but did wash blood off himself.
On Tuesday pathologist Dr Benjamin Swift told Norwich Crown Court Ms McAuley sustained multiple facial lacerations and injuries consistent with "blunt force impact".
The trial continues.